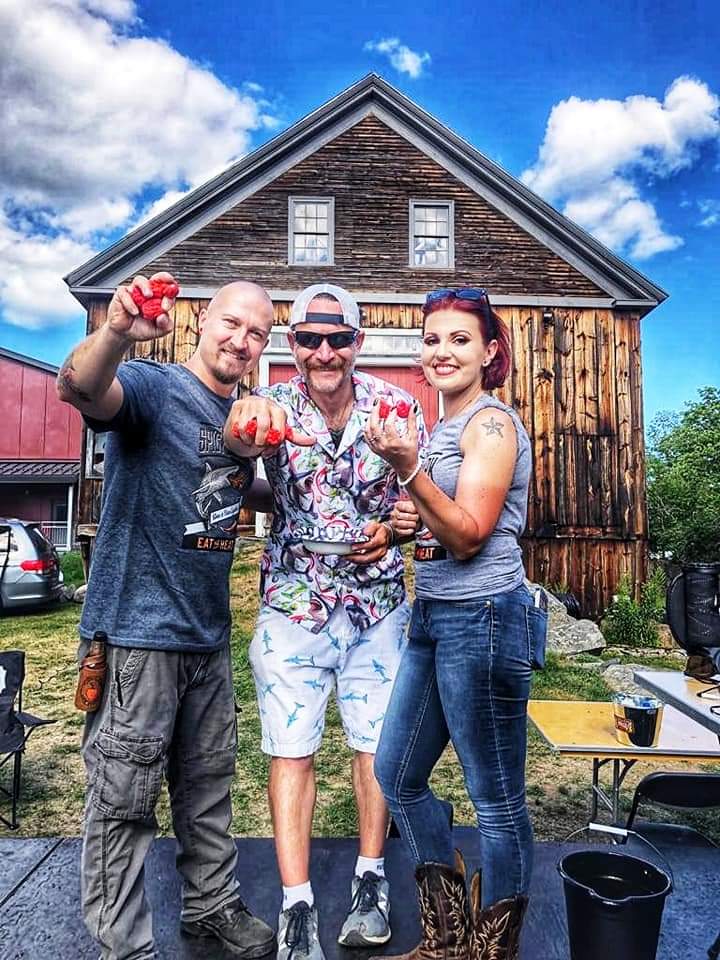 The 1st

annual New England Hot Sauce Fest was a crowd pleaser that left festival goers asking, "what's the date for 2023?"
HAMPTON - Presented by The Spicy Shark, the 1st Annual New England Hot Sauce Fest was held on Saturday July 30, 2022 at Smuttynose Brewery in Hampton, NH.
Over 2,400 fiery folks descended upon this first-ever event of its kind in New England. They were not disappointed with 25 craft hot sauce companies, 14 local craft and specialty vendors, and 8 diverse food trucks.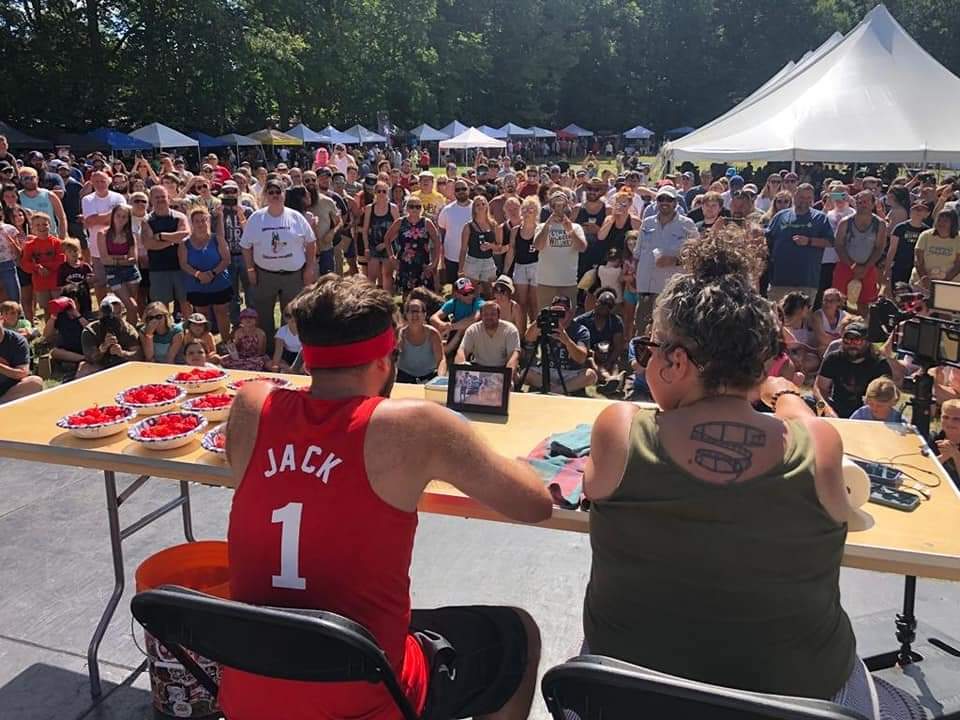 Celebrity competitive eater Mike Jack Eats Heat traveled down from Canada and dazzled the crowd by beating his own personal record consuming 60 Carolina Reapers, the world's hottest pepper. This crop of Reapers, directly sourced from creator Ed Currie, were arguably the hottest ever bred. Other pepper eating contests were won by New England locals Kenton Plourde (Jalapeno), Ben Brouilliard (Wing), and crowd favorite, Lauren P. Fraunfelter (Super Hot).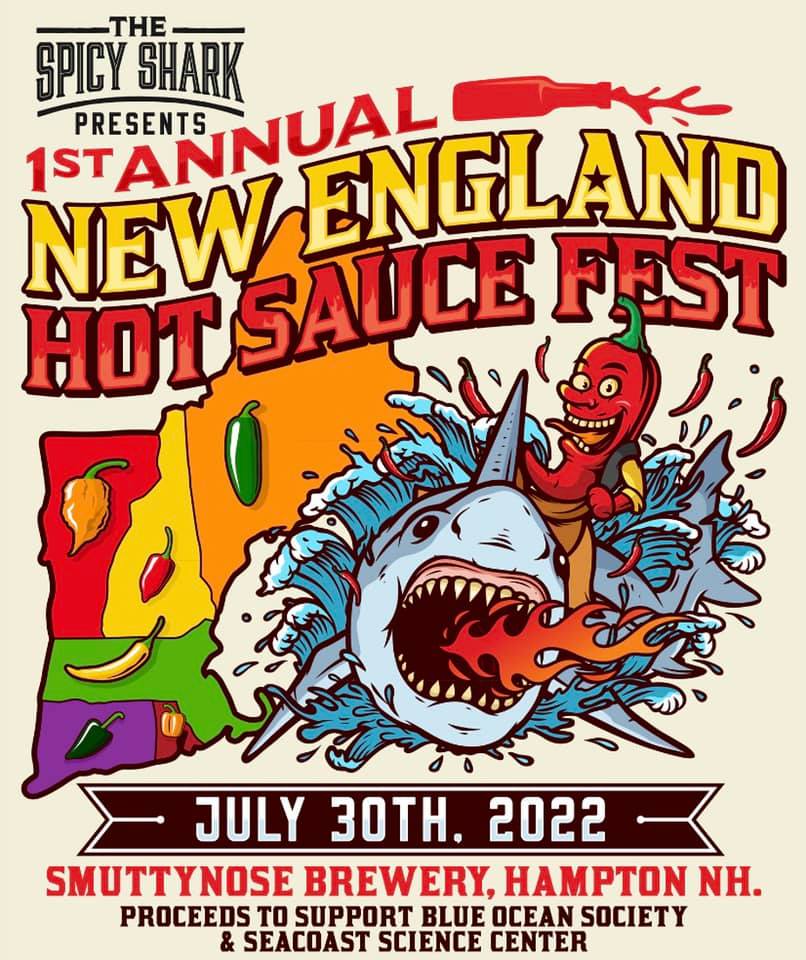 Spicy Shark owner and Festival organizer Gabe DiSaverio said, "Our goals were to raise money for our local ocean-conservation beneficiaries, and to put New England on the map as an up and coming spicy region, showcasing 25 great local craft hot sauce companies. We are so thrilled to raise money for Blue Ocean Society and Seacoast Science Center, each receiving $4,417. This was in part due to the support of our great sponsors, Bangor Savings Bank, The City Beverage Center, Whole Foods Market, NH Magazine, Coca Cola Northeast, Cabot Cheese, Port City Veterinary Referral Hospital, Casella, Puckerbutt Pepper Co, and Smuttynose Brewing Co."
When asked whether the event would be happening again next year, DiSaverio said, "You can bet your habanero it will, pencil in your calendar for Saturday July 29, 2023. We'll be back at Smuttynose Brewery with Heat 101 MC's Bella and Dark, who have just confirmed they'll be returning!" DiSaverio added, "We plan on keeping the same formula that made year one such a success, and we've got a bunch of new spicy surprises in the works as well!" DiSaverio will invite back the local hot pepper challenge champions from this year's event to return and defend their titles next year.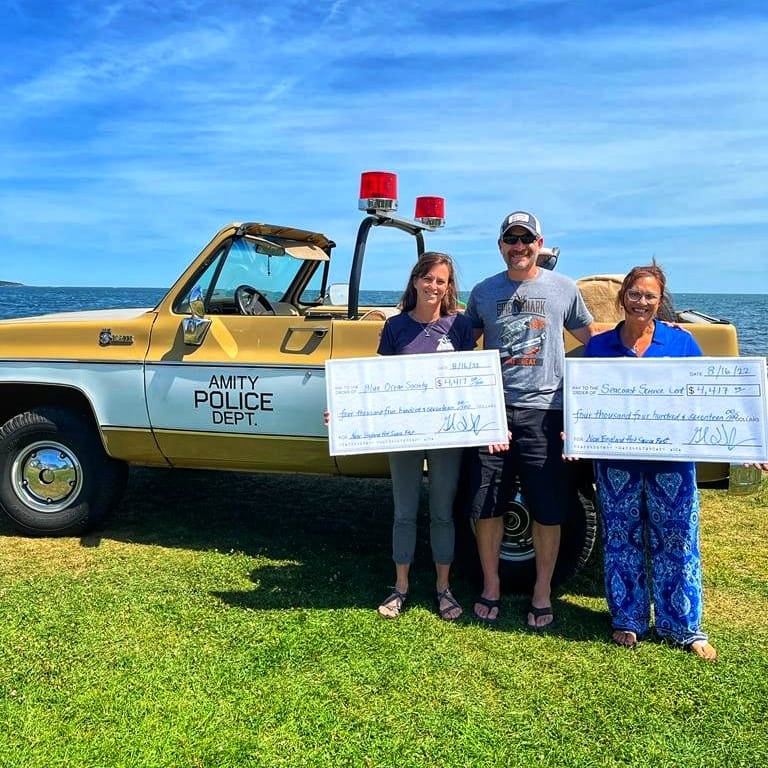 Pictured:
Jen Kennedy, Blue Ocean Society, Executive Director
Gabe DiSaverio
Karen Provazza, Chief Communications Officer, Seacoast Science Center
Beneficiary Blue Ocean Society for Marine Conservation is a Portsmouth-based nonprofit organization that works to protect marine life in the Gulf of Maine. "We're so grateful to have been a part of this hugely successful event," said Jen Kennedy, Executive Director. "As we have learned all too well in recent years, a healthy ocean is important for us all to thrive. The funds raised will support our ocean conservation programs here in the Seacoast."
Beneficiary Seacoast Science Center is a non-profit coastal and marine science education institution located in Odiorne Point State Park in Rye, NH. "We are honored to have been part of this fantastic event that helped shine a light on the importance of ocean health and marine wildlife conservation," said Karen Provazza, Chief Communications Officer at Seacoast Science Center. "The funds will help us expand our educational reach and fulfill our mission to inspire conservation of our Blue Planet. We've marked our calendars for next year's event and hope to see you there."
Be the first notified for when next year's event tickets go on sale, by signing up here: